Females of all ages experience issues with their periods and menstrual cycles after sustaining a concussion. It's a greatly overlooked topic regarding female concussions that warrants immediate attention. This post includes the report abstract for the survey I developed regarding this topic. I've also created two forms. One is to use during a concussion recovery. It's the MCAC: Menstrual Cycles After Concussion. The other is to use beforehand, such as at the start of a season. It's the FCBR: Female Concussion Baseline Report.
I'm the author of the survey and report. I'm also the Publisher of HerConcussion.com and AllConcussion.com, and Owner of 2moroDocs. For additional information about my background, see the About page.
I'm dedicating this to the parents and individuals who have contacted me over the past few years looking for assistance with this issue and to those that completed the survey. It's been on my mind since first hearing of problems people have been having with their periods following a concussion. To the survey respondents, I'd like to send a big thank you for your input. Now, we can move forward. A link to the full survey report and related forms is at the end of this post.
– Julie Norris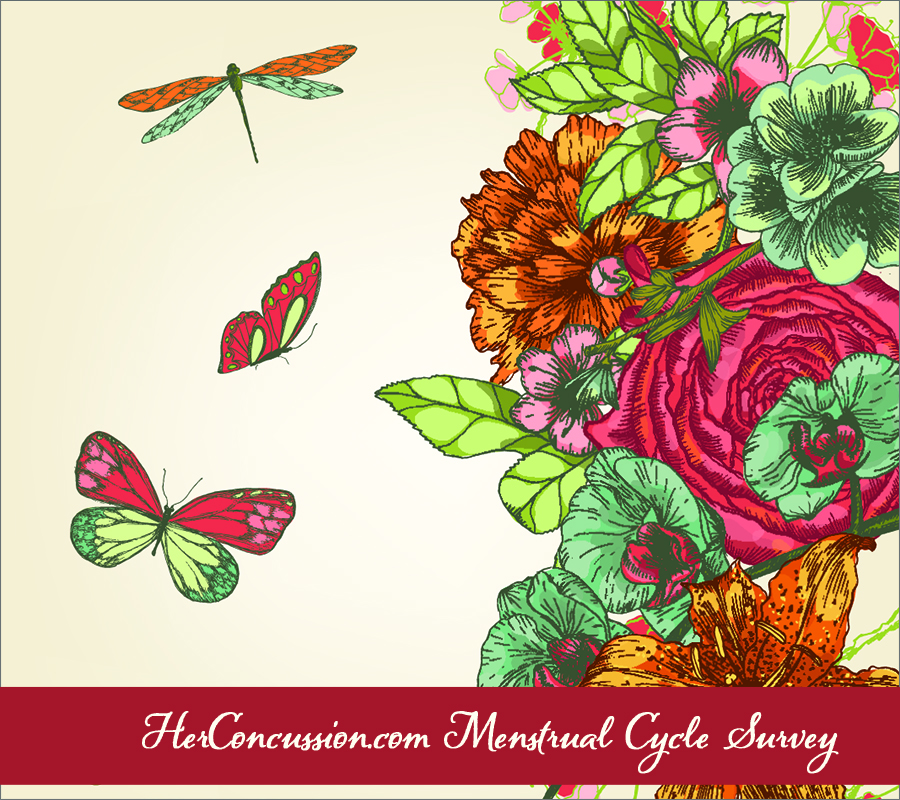 Abstract
Purpose: I set up this survey to gather information about what I had been hearing anecdotally for several years from individuals and parents of daughters experiencing menstrual cycle difficulties after sustaining a concussion. There has been no information available or apparent interest, so I decided to create a survey myself. The purpose is to gather information that shows the issues and illustrates a need for research so that a formal study can be undertaken.
Methods: A 16-question survey regarding menstrual cycles following concussion was posted on HerConcussion.com and shared via social media and an email newsletter. The survey was anonymous.
Participants: There were 29 respondents. All were female, or responded on behalf of females under the age of 18. Respondent five-year age groups ranged from the youngest (15-19 years old) through the oldest (55-59 years old). The majority of respondents were in the 30-34 age group (n=5, 17.2%). Parents completed the survey on behalf of their daughters who were under the age of 18.
Results: Respondents experienced varied issues, different mechanisms of injury, and varied levels of activity. Number of concussions per individual were similar.
The top mechanism of injury was Motor vehicle accident (MVA) (n=10, 34.4%). This was followed by Struck by/against something (n=8, 27.5%), Fall (n=5, 17.2%), Sports injury (n=4, 13.7%), Assault (n=1, 3.4%), and Other (n=1, 3.4%).
Most respondents had experienced one concussion (n=14, 48.2%). Other respondents sustained two concussions (n=3, 10.3%), three (n=7, 24.1%), four (n=1, 3.4%), and 5-9 (n=4, 13.7%).
The most common age at menarche was 12 (n=10, 34.4%).
Regarding the question identifying how a period changed following concussion, respondents were able to make multiple selections from a list of varied issues. The top issues experienced were More headaches with their period than before the concussion (n=15, 51.7%), More painful (n=9, 31%), Heavier flow (n=9, 31%), and Missed periods some months (n=5, 17.2%). There were also instances where Periods stopped completely, Didn't last as many days, Lasted more days, Flow was lighter, or Had multiple periods in one month (for each of those, n=4, 13.7%). Two respondents indicated that they did not experience menstrual cycle changes after concussion.
Respondents had the opportunity to share comments as well (all anonymous). The comments provided important, telling detail about the changes and issues. Some experienced periods that lasted for weeks. Very heavy flows were also described. Vertigo was mentioned in multiple comments and seemed to have some correlation to periods. Some respondents experienced worsened PMS symptoms than before their concussion. For some, symptoms related to concussion intensified during their period. Cycles were disrupted in multiple ways. They were regular before concussion and irregular afterward. Others described skipped periods and lighter flows.
Conclusion: Females of all age groups experience difficulties with menstrual cycles following a concussion. This includes post-menopausal women who may experience some extent of bleeding after a concussion. There needs to be more focus and research regarding endocrine and menstrual cycle issues that females experience after sustaining a concussion. Such research should focus on each different life phase, from puberty through post-menopause.
In addition to research, there are immediate steps that can be taken to address this. For example, asking additional questions during patient intake at doctor appointments, screening for neuroendocrine (NED) issues, having females track menstrual cycles using the Menstrual Cycle After Concussion (MCAC) form [1], conferring with Female Athlete Triad experts, and adding endocrinologists and gynecologists to concussion treatment teams.
---
[1] Norris J, "Menstrual Cycle After Concussion (MCAC)" HerConcussion.com
---
Related posts: