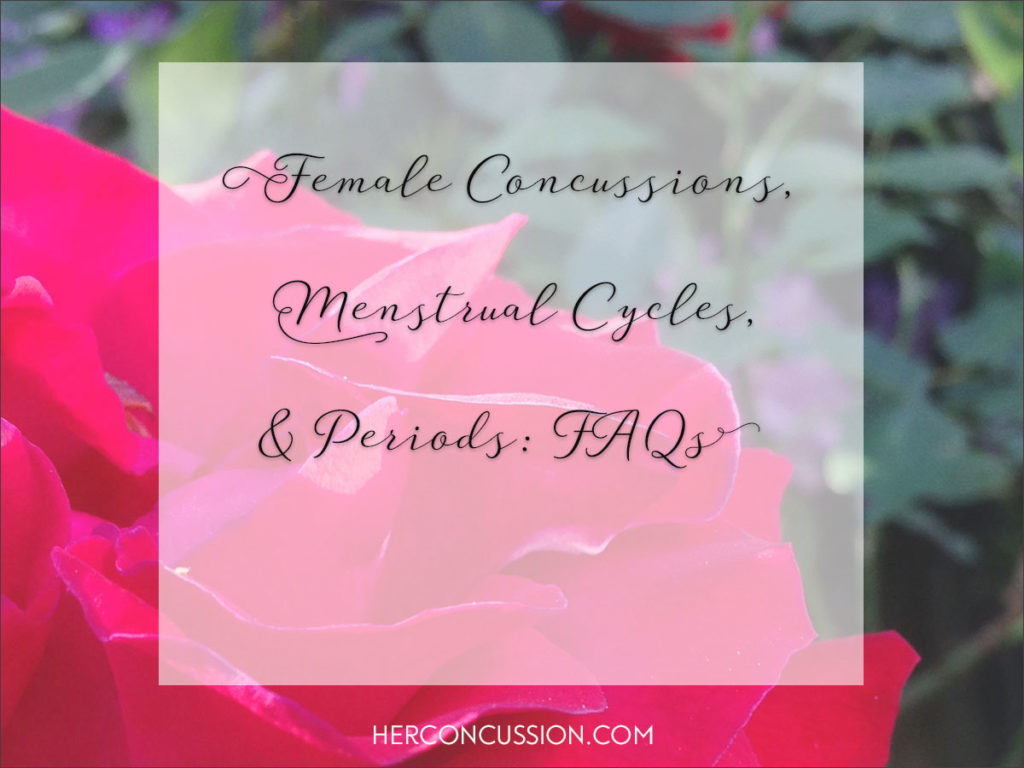 Concussions can occur from many causes. Car accidents (also referred to as motor vehicle accidents or MVAs), sports, running into something or being hit in the head by an object, assault, and falls are common causes. Of the many symptoms that follow, one aspect is rarely discussed for females: changes to menstrual cycles and periods. It's something I've been working on for some time. I've added many posts on this site regarding hormones and menstrual cycles as well as my cycle dysfunction survey results. In this post, I've pulled together some information regarding ways in which periods can be affected by concussion, as well as some resources for tracking issues.
Can a concussion affect my period?
Yes. Absolutely. A concussion can result in a wide variety of changes to menstrual cycles and periods. Teens and women have reported that periods stop completely, they become more irregular, they last for weeks at a time, and everything in between.
This hasn't been studied much at all at this point, from what I can tell. I ran a survey due to the number of inquiries I've received on the topic and the results are included here, but I've not seen much otherwise.
My periods stopped after my concussion. Is that normal?
No. It is not normal for periods to suddenly stop. However, this can and does occur after a concussion. I've heard from women looking for help because their periods had suddenly stopped, or they were "thrown into early menopause" after sustaining their concussion.
A lack of periods is called amenorrhea. There are two types of amenorrhea: primary and secondary. Primary amenorrhea occurs when a girl doesn't have her first period (menarche) until age 16. Secondary amenorrhea refers to a lack of periods that occurs after one's menarche. Secondary amenorrhea is mainly what I refer to on my site, unless specifically noted as primary. I say this because primary amenorrhea occurs once and is not common. Once you start your periods, you have them from that point on until menopause. So, essentially, most of the time, amenorrhea mentions are likely referring to secondary amenorrhea.
During a girl's first gynecological year, her cycle can vary and there can be longer intervals between periods. However, if a girl doesn't have a period for 90 days, it's something that should be discussed with a physician. This is a statement from the American Academy of Pediatrics:
"Girls and adolescents with chaotically irregular cycles with more than 3 months between periods should be evaluated, not reassured that it is "normal" to have irregular periods in the first gynecologic years." [1]
Causes of Amenorrhea
These are some of the causes of amenorrhea.
Perimenopause
Female athlete triad
Concussion and brain injury
Endocrine issues
Thyroid issues
Pregnancy
Gynecological issues
Birth control
Perimenopause
Periods become irregular during perimenopause. This stage of life can extend over decades. For those who were already experiencing missed periods some months and it persisted after a concussion, it raises the following question. Is my lack of periods normal perimenopause or is it concussion-related? I can't say, as every person and every concussion is unique. However, if you've arrived at my site because you think something isn't quite right, you may be correct. You know your body and your menstrual cycles, so know when something is different. If you think something is amiss, follow your gut: look into it. I've developed some items that could help you with that task and gather information to discuss with your physician. Here they are:
Concussion and Brain Injury
Concussions and TBI can affect the endocrine and pituitary systems. This has not been studied as much as it should be. However, if one sustains a concussion and then develops an issue such as hypothyroidism, there is much information available. Hypothyroidism is one potential issue following a concussion. One of the main symptoms of hypothyroidism is a heavier, longer period.
Female Athlete Triad
You may have heard that female athletes sometimes don't have periods. This is true. For those that exercise frequently, either recreationally or as an athlete, amenorrhea is possible. If you're experiencing amenorrhea and are missing your periods, look into the Female Athlete Triad. The triad has three components: amenorrhea, disordered eating (e.g., anorexia), and bone mineral density (BMD). The triad can be very serious. One interesting aspect of it, I think, is that it's recommended to treat amenorrhea with changes to one's diet and nutrition. It's worth looking into. Here's a post I wrote that might help:
Female Athlete Triad and Concussion Recovery
My period is much longer and heavier than it was before my concussion. Do others have this problem?
Yes. They sure do. I've heard from some parents that their teenage daughters were experiencing periods that lasted weeks at a time. Others have also reported to me about having longer periods. It was also noted by some respondents in my menstrual cycle dysfunction survey.
As I noted above, one possible cause of longer and heavier periods is hypothyroidism. That can occur following a concussion. To help determine if you've developed hypothyroidism, physicians can order a blood test to check your TSH level. Results can show that you're within a "normal" range, but ask for additional blood tests if you think more might be necessary. Hypothyroidism is complex and far beyond the scope of this blog post. Research that online if you think it's potentially a cause and then discuss it with your physician. Unfortunately, I've not yet come across any other information about why longer periods might be occurring after a concussion. It's a huge gap and I'm trying to raise awareness for it and ask for more information and research.
Survey Results
If you're experiencing issues, you're not alone! I had been receiving inquiries and requests for assistance from so many people over a period of several years that I finally set up a survey to gather information. Difficulties included stopped periods, longer periods, and everything in between. Take a few minutes to review the survey results, including the report I wrote. The report includes additional information and references you might find helpful. Here's the link!
Menstrual Cycle Dysfunction Following Concussion: HerConcussion.com Survey Results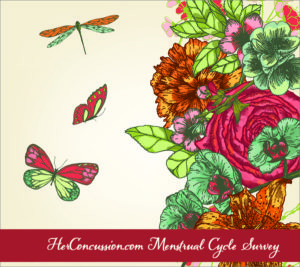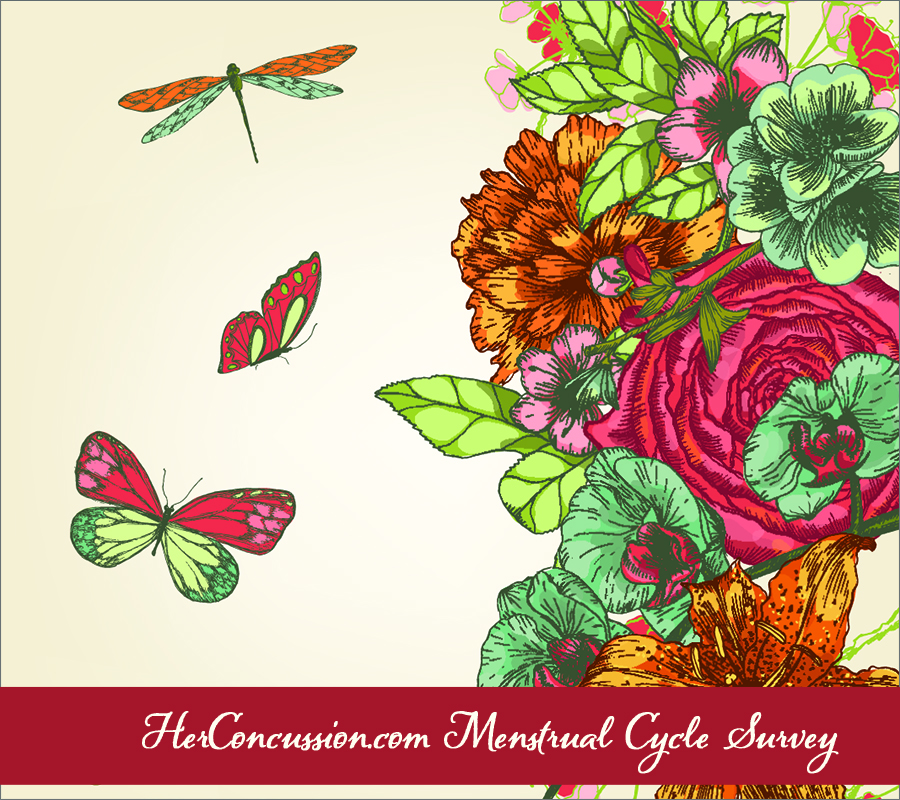 To track issues:
To help with recording and tracking the various problems with periods and menstrual cycles after a concussion, I've developed a resource for you. It's a form that you can download for free. You can also share that with others.
I am always interested in hearing from people regarding problems with periods and menstrual cycles after a concussion. If you'd like to contact me, send me a note via my Contact page!
---
[1] American Academy of Pediatrics  "Menstruation in Girls and Adolescents: Using the Menstrual Cycle as a Vital Sign" Pediatrics 2006;118;2245
Related posts: