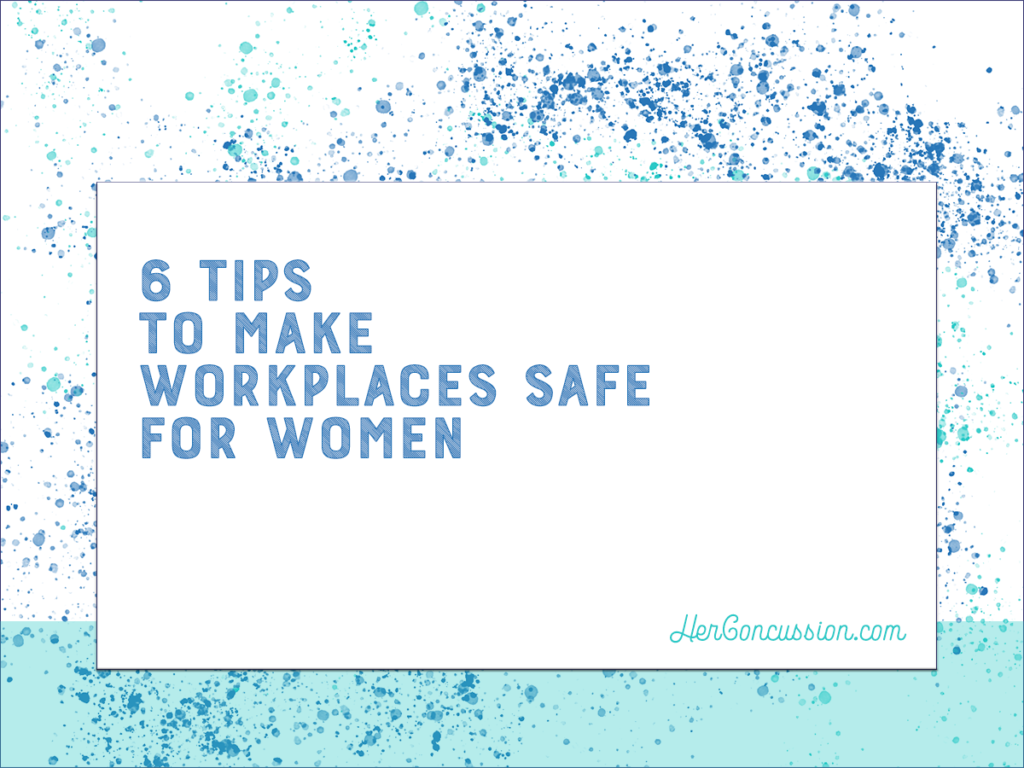 Another day, another awful story of sexual harassment at work. Today, the NFL Network is in the news because it suspended three employees for their actions. Given my work in the concussion space, which obviously has some focus on football, and all that has been occurring recently, I've finally decided to write about it. Here are my suggestions to address this situation no matter what the business or topic. There are some steps that could be taken immediately and would be easy, and others that would take time. Take a look! It's time for a change.
Remove Office Doors
Hearing of the locked door situation on the Today Show was shocking and troubling. To ensure that nothing like that can happen at any other workplace, I suggest removing all doors. Initially, I thought: replace all doors with ones that cannot lock. On further consideration, I just thought: why not just remove them all? Then the locking-women-in-the-office scenario is taken completely off the table. If you feel it is necessary to have a door, then replace existing ones with doors that cannot lock. If meeting and you still have a door, leave said door open for the duration of the meeting.
Women: from this point forward, do not meet behind closed doors. If meeting one-on-one, ensure that the office door remains open.
Replace Desks
It's time for an office revamp. To ensure that there can be no hidden buttons that will lock doors, replace the desks. I just redesigned my office and I now have a standing desk. All I did was take my old desk apart and put the tabletop on top of an adjustable height table. (It's great; I love it!) I only have a few things on my desk now. My drawers and shelves are across the room. This is what needs to happen in offices. Have a relatively bare desktop with no drawers or shelves on which a person can hide a locking button or who knows what. If a woman walks into an office for a meeting, let's see your hands. Take away the hiding places.
Ban Hotel Room and Home Meetings
This is an easy one. If you have to meet at a hotel, then do so in the lobby or restaurant. There's absolutely no need to meet in a person's room. Make this a rule. Instead of meeting at a person's home, meet at a public place.
Note the trend here: meet in a public place where others are around. If a person needs to escape a bad situation or needs to request assistance, she can easily do so.
If it's critical (for some unknown reason) and it's not possible to meet at an OFFICE, I would even go as far as to have female employees set to meet with a person to work with the front desk and hotel security to let them know that a meeting will take place. That might be on a case-by-case basis, but a good extra option to have if deemed necessary. It would be along the lines of requesting an escort if needed, IMO. From what I've been seeing, there are a lot of "open secrets" and rumors for some individuals. If a person is set to meet with a person long-rumored to have issues, then absolutely take the extra steps to protect the women in your employ. No one wants to go to a work meeting and end up faced with some man disrobing or parading around naked. Or worse.
No more hotel room meetings. Period.
Women: if someone suggests that, refuse. Be safe. There's no reason why you need to meet in a hotel room. I also suggest recording your meetings. You need to tell people before you record, but they should not object. If they do, that's trouble. Take extra precautions or end the meeting.
Sweep Offices and Restrooms for Recording Devices
I wouldn't have thought this to be necessary, but given the stories that are coming out, I think it's good to be proactive. I don't trust guys at work at this point. All it takes is one perverted mind, and it looks like there are many roaming offices these days. I think it would be good to check for devices, and to do so regularly.
Meet With Female Employees as a Group
Call in some outside experts and have them come in and interview your employees. Find out if there have been problems, if they've been reported, and if any actions were taken. Then move forward as necessary. It's time to be serious about this.
Create Rules for Men and Start Training
Apparently, it's necessary to spell out that you shouldn't disrobe in front of female employees, or flash them, or parade around naked, or send lewd text messages, and all sorts of awful things that have been surfacing the past few months. There should be zero tolerance for any of this. Good heavens.
I think that things can change. They have to, because all of this that has been occurring is unacceptable. It's time to make changes and clean house. Until then, my advice to women is to approach work as you would other daily activities. Be alert and aware of your surroundings. Be safe. Do we need to start taking pepper spray to meetings or can businesses get a handle on this situation? You can easily start by taking down the doors and changing the rules a bit so women can walk and work freely at their place of employment. Your daughters will thank you some day.
Related posts: