After being contacted by concerned parents for many years as well as individuals looking for assistance with menstrual cycle issues following a concussion, I conducted a survey to gather information. The report and two related forms I developed are on this page. The purpose of the survey is to show the need for formal research and get that set up. Additional information about the survey is on Menstrual Cycle Dysfunction Following Concussion: HerConcussion.com Survey Results, but it would be best to just open and download the entire report here since you're on this page already!
You can download the following materials on this page:
HerConcussion.com Menstrual Cycle Survey Report
MCAC: Menstrual Cycle After Concussion
FCBR: Female Concussion Baseline Record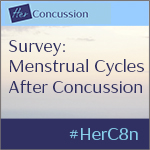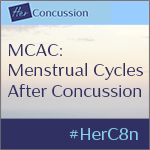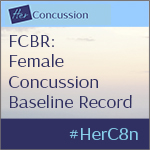 If you'd like to share this information, please use this link: HerConcussion.com Menstrual Cycle Survey Report and Forms
Note: By downloading materials, you acknowledge that all these items are copyrighted and you agree that you will not copy content; copy or distribute the survey report file; or post the survey report file on a website or other online forum of any kind. To share information about the survey report file, you can link to the report page. For the MCAC and FCBR forms, you may print, share, or link to them provided all identifying information is left intact and you provide attribution to HerConcussion.com.
Survey Report
The report discusses the results of the HerConcussion.com Menstrual Cycle Survey. This is the full report for the survey. It is a .PDF file, is 19 pages in length, and has many references. In downloading this report, you agree that the report and file are copyrighted, and that you will not email, print, distribute, or post it online anywhere.
Download HerConcussion.com Menstrual Cycle Survey Report
Forms
I've developed two forms to help individuals and to help medical personnel treat females with a concussion. One form provides information before an injury. The other can identify menstrual cycle issues and effect on concussion symptoms following an injury. You can download them via the links below. You can print and use either form, and share it with others, but with copyright and author information intact. You cannot post either form online.
MCAC: Menstrual Cycle After Concussion
This form includes questions regarding menstrual cycle changes following a concussion, including effect on and severity of concussion symptoms. Individuals can use this form to track their issues and take it with them to doctor appointments. Physicians can use it to gather information to help treat their patients.
Download MCAC: Menstrual Cycle After Concussion
FCBR: Female Concussion Baseline Record
This form includes female-specific health information to obtain before an athletic season begins or in other instances. It's an additional form you can use for baseline reports. It includes questions about concussion history, menstrual cycles, physical activities, and concussion symptoms. Computerized baseline tests for concussion look mainly at cognitive issues. This provides additional information regarding menstrual cycles and periods.